Special mills called Assarkhaneh (or hessarkhaneh) worked throughout the old cities of Iran to crush both rocks and condiments such as turmeric and pepper. This was an enclosure in the middle of which two large, round rocks were placed together and connected to a pack animal, such as a donkey, mule, horse, or camel with a lever. As the animal walked around, the top rock moved with it and crushed the seeds placed on the lower rock.
Assarkhaneh Shahi" dates back to the Safavid period over 400 years ago and was still functional despite its old age up until a few decades ago.
The eastern wing of the Assarkhaneh is built on two floors. The top floor is known as the "warm house" where the oil seeds were cleaned and roasted. ts containing the oil were stored in an octagonal room on the ground floor.
The central space of the Assarkhaneh was built with a double-high ceiling measuring 111 meters, comprising three dome-shaped spaces with room for a carrier. The roof is arched and light is provided by the skylights. The domed roofs kept the area cool for oil storage. The walls and ceilings are made of bricks. Due to its usage, the plant is made without the use of windows, frameworks, paneling, and decorations. The main spaces include a warm room, a counter (entrance), a yard (for delivery and storage of seeds), and a camel stable.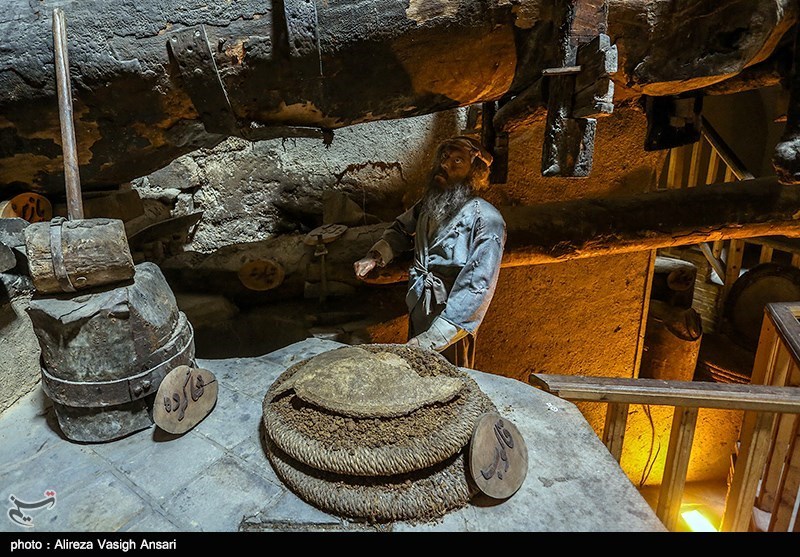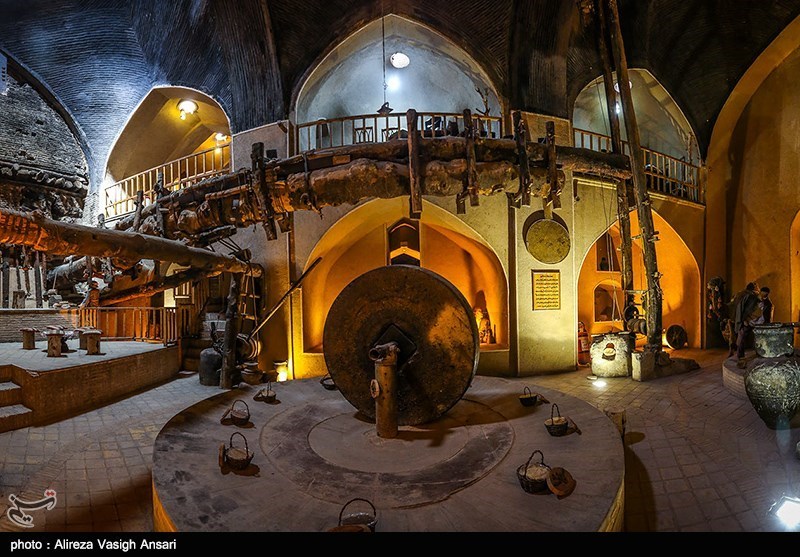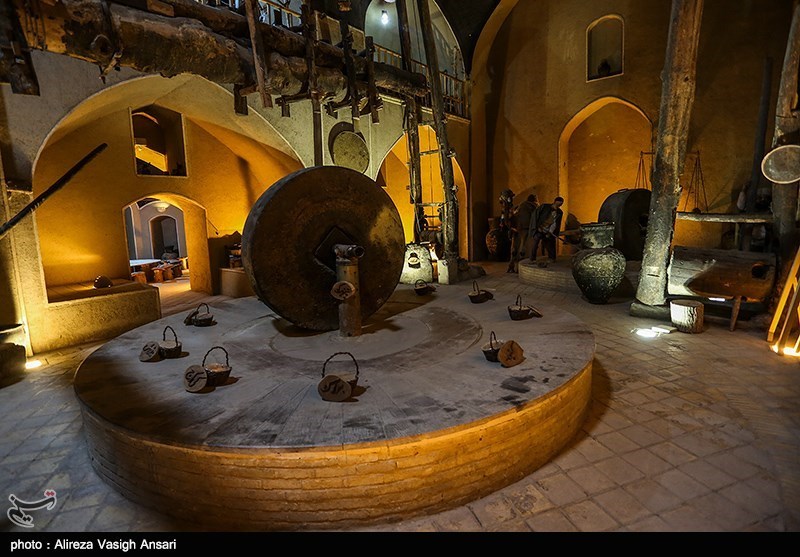 In the middle of the horizontal stone in the mill there is a hole in which a wooden beam is placed; the larger vertical stone was connected to the animal pulling it with another piece of long beam from an elm tree.
This central space was called "Tirkhaneh" [Beam room], for housing the beams that were used to press the oil seeds. is is where the grinding stones are; hard rocks are used for these, extracted from the "Lasu" mines near Ardestan in Isfahan. e camels used in the plants were male. The saddles consisted of canvas, gunny, and chains connecting them to the beam turning the mill. The animal's eyes were covered to stop it from getting dizzy.
Oil extraction was an important job in the old days. According to archaeologists, based on discoveries, extracting oil seeds in Iran goes back to seven thousand years ago; it was carried out with simple tools. The extracted oil was used in mosques, schools, and homes, thus making these plants very important and even sacred to people.
On the sacredness of the plants, it is said that as the beams measuring 10-12 meters were moved through the narrow, winding streets, nobody complained when it damaged their walls. On the contrary, the owners considered this a good omen and organized a feast.
Apart from the Assarkhaneh Shahi in Isfahan, other plants also existed in this part of Iran of which no traces have remained.